Balconette bra Delice Simone Perele 12x330 beige
Tempting, soft underwired bra with vertical cut, balconette type
Subtelny biustonosz Simone Perele Delice pięknie podkreśla delikatny i kobiecy charakter kreacji. Zachwyca misterna koronka i haftowany tiul, który sprawia, że całość nabiera zwiewnego i iluzorycznego charakteru. A to cenią zarówno panie sięgające po tradycyjne modele, jak i miłośniczki nowoczesnych trendów, w których królują balkonetki. Biustonosz Simone Perele Delice, jaki oferujemy na piubiu.pl, doskonale eksponuje biust, stanowiąc idealne podparcie. Zawdzięcza to doskonale wyprofilowanym miseczkom i fiszbinom. Piersi układają się w naturalny sposób, a to pozwala czuć się atrakcyjnie i wyjątkowo kobieco na co dzień oraz na wyjątkowe wyjścia. Poza tym Simone Perele Delice fantastycznie wygląda. Nieco romantyczny jego rodowód podkreślony gipiurą na ramiączkach, pudrowym kolorem i motywami florystycznymi będzie przykuwać uwagę szczególnie w zestawieniu z innymi elementami bielizny. Z drugiej strony sam fason i wykończenie są nieco ekstrawaganckie i z pewnością dodadzą pikanterii. Wybierz tę propozycję dla siebie.
Biustonosz balkonetka Delice Simone Perele 12x330 beżowy
Kuszący miękki biustonosz na fiszbinach z pionowym cięciem, typu balkonetka

Zjawiskowo zbiera, podnosi i eksponuje biust

Wykonany z delikatnego tiulu, ozdobiony przepięknym austriackim haftem

Subtelny i mega kobiecy model, w bazowym kolorze delikatnego beżu

Cudownie prezentują się po nałożeniu, beżowa bielizna w tym wypadku staje się bardzo pożądana i kobieca

Podwójne ramiączka, typu spaghetti; ozdobione koronkowym kwiatem, regulowane

Francuski design
Skład: 62% poliamid, 22% elastan, 16% poliester
1. Jak znaleźć idealny rozmiar biustonosza?
Aby określić swój rozmiar biustonosza należy zmierzyć obwód pod biustem, obwód biustu oraz dopasować fason odpowiedni do swoich potrzeb. Poniższa tabela pozwoli znaleźć Twój PRZYBLIŻONY rozmiar biustonosza. Aby dobrać IDEALNY rozmiar warto przejrzeć różne fasony oraz pomóc sobie ROZMIARAMI KRYŻOWYMI.
Pomiaru można dokonać samemu lub poprosić kogoś o pomoc.
Stań z prostymi plecami, oddychaj swobodnie - nie wstrzymuj oddechu, bo wtedy klatka piersiowa nadmiernie się poszerza. Użyj miary krawieckiej.
Pomiaru należy dokonać pod samym biustem, dość ciasno, gdyż miarka nie jest elastyczna, tak jak biustonosz, ale również trzeba zachować pewną swobodę. Po odczytaniu wyniku zaokrąglij go w górę lub w dół, np. 72cm do 70 cm, 84cm do 80cm lub 85.
Pomiaru należy dokonać w najszerszym miejscu biustu, dość luźno aby nie ściskać piersi.

Spójrz w tabelę rozmiarów i odszukaj swój rozmiar!

Idealny biustonosz otacza piersi, nie przecina ich ani nie odstaje. Jest komfortowy, leży doskonale.
2. ROZMIARY KRZYŻOWE
Gdy czujesz, że biustonosz nie jest dopasowany idealnie spróbuj jego ROZMIARU KRZYŻOWEGO.
Jeśli biustonosz jest ZA MAŁY pod biustem, spróbuj przymierzyć trochę większy. Zatem zamiast, np. 75C spróbuj 80B. Będzie on luźniejszy pod biustem, ale głębokość miseczki będzie taka sama jak w 75C.
Jeśli biustonosz jest ZA DUŻY pod biustem, spróbuj przymierzyć trochę mniejszy. Zatem zamiast, np. 75C spróbuj 70D. Będzie on ciaśniejszy pod biustem, ale głębokoość miseczki będzie taka jak w 75C.
W razie konieczności skorzystaj z poniższej tabeli rozmiarów krzyżowych.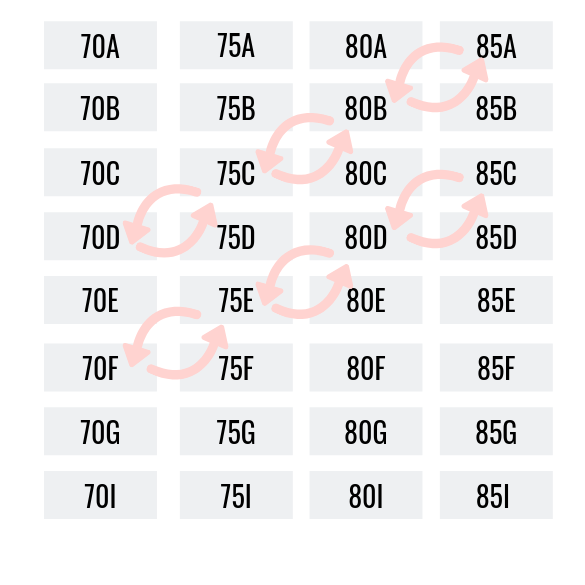 3. JAK DOPASOWAĆ ROZMIAR MAJTEK?
Aby dopasować rozmiar majtek należy pobrać dwa wymiary.
Zmierz:
- najwęższe miejsce talii
- najszersze miejsce bioder

Spójrz do tabeli rozmiarów i ciesz się wspaniałym kompletem bielizny!