Full cup and half cup bra - what does it mean and who is it suitable for?
2022-10-03
What is the difference between a full cup bra and a half cup bra? Which one should you choose? What is their function and where to find models of the best quality and of course in line with trends? Check out the post and find out everything.
Half cup bra and full cup bra - what are their characteristics and what is the difference between them?
A full cup bra and a half cup bra are two concepts worth remembering if you want to look impeccable in your stylizations, but also feel confident and comfortable. Although their names may seem difficult to decipher, they are actually two models that you surely know . It is worth knowing that these are two types of underwear that differ in essential construction details.
A full cup bra (or fullcup or full-cup - you can come across different spellings) is a bra model that supports the bust well and covers it with built-in, full cups (from English "full" means "full"). These types of bras are also often found in large sizes. They can be characterized by properties that optically reduce the breasts - then we are talking about the so-called minimizers.
A half-cup bra (or half-cup or half-cup) is a bra model that has built-in cups at the bottom, often reinforced with underwire or stiffening, but ending more or less in the middle of the breast ("half" in English means "half" ). The upper edge of the vertically cut cups can form a horizontal line.
Both models of bras , of course, come in many variants and versions . They can be sewn from sensual lace in a fiery red color or keep a basic character (like full cup and half cup bras in nude beige). It's best to check for yourself in our store how many options you have to choose from and bet on the perfect one for yourself.
Ava dove AV 1869 gray balconette bra
Who are full cup and half cup bras suitable for? We suggest who should choose them
Both types of bras, both full cup and half cup bras, are extremely sensual and practical, but they suit slightly different types and sizes of breasts . If you want to look sensational in your stylizations and feel beautiful in your own body, adjust your underwear to your needs, according to what a professional bra fitter would suggest.
A full cup bra will work great especially in the case of larger breasts, also not very firm . Full, ample breasts in such a bra will be perfectly supported and shaped. If you want to reduce their volume, choose a modern minimizer bra that will allow the skin to breathe and make the bust look a size or two smaller without having to compress it.
The half cup bra is the perfect choice for medium-sized busts . If it is too small, it will not be properly exposed in cups cut in this way. An alternative are half cup push-up bras with magnifying inserts that will add volume to the breasts. If your breasts are flaccid and inflexible (for example, after pregnancy), they will fit very nicely in a half cup bra.
Note: In addition to how the cups are cut, the straps, the type of fastening, the type of underwire or the material itself are also important - keep all of these in mind when looking for the perfect bra!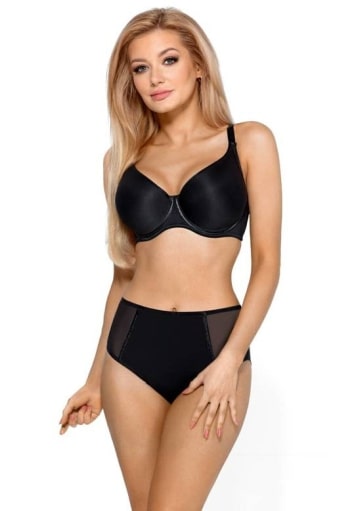 Anna Nipplex padded full-cup bra black
In what styles will half cup and full cup bras work?
It is also worth remembering that women's full cup and half cup bras should be matched to the type of styling. The point is to make it invisible in the cut of a blouse or dress. And so, for casual everyday styling , for example a T-shirt or a sweatshirt, a bra with full cups, guaranteeing comfort, will be appropriate. If, on the other hand, you choose a cleavage dress, the upper part of the cups may stick out - make sure you avoid this unwanted effect.
Half cup bras are irreplaceable for blouses and dresses with a deeper neckline , especially a wide one, such as a diamond, heart, drop or water neckline. Thanks to its profile, it will remain invisible, which will provide you with an elegant look.
Remember, however, that it is not only important that the bra fits the style of the outfit you are wearing. The issue of color and texture is also important. If you choose transparent or white clothes, put on reliable nude bras, if you choose black - underwear should be kept in this color. If you take care of these aspects, you will certainly get the WOW effect.
Thanks to our post, you already know what are the basic differences between half cup and full cup bras and which one you should choose. If you are looking for a solid and beautifully looking bra in one of these two types, be sure to check out our online store with branded underwear, where you will find, among others, Felina bras loved by Polish women .