Retro high waisted panties
( number of products:

2

)
Built-up high panties in retro style are back in favor again. This is an excellent alternative for all women whose figure does not allow them to wear tight-fitting panties, and panties with legs do not properly meet their individual preferences. Inspired by the Enlightenment or Romantic period, this underwear was initiated by many well-known manufacturers. Therefore, it could not be missing from our store's offer. We offer sensual women's panties, perfect for everyday wear as well as for special occasions. Made of charming lace, additionally decorated with many subtle details that add sex appeal. The high waist of the retro panties masks body imperfections, modeling the silhouette and adding to its attractive appearance, and the pleasant-to-touch material does not cause pinching or discomfort when worn. We invite you to embark on an exciting adventure through the land of elegant and alluring lingerie that will emphasize the shapes of the female body. Retro panties are available in many sizes and colors to choose from.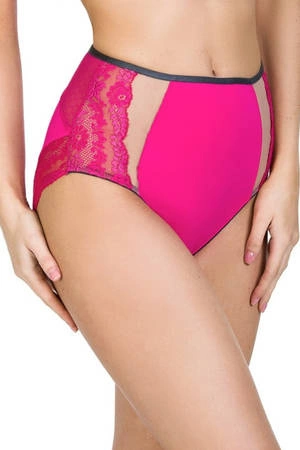 84,90 zł

/ szt.

incl. VAT
89,90 zł

/ szt.

incl. VAT
High-waisted shaping panties are not reserved only for women with a larger figure type. They can be worn every day and to look beautiful in an outfit worn for a special occasion. They will eliminate small folds and make the clothes drape smoothly. Women of all ages should wear high-waisted panties. They are useful for both young girls who do not like hipster panties, thongs and other types of cut-out underwear. Older ladies also willingly reach for them, because they can cleverly hide body imperfections in the abdomen area.
Women's slimming panties with a high waist
Short models, ending under the belly, do not look aesthetically pleasing, for example, in the case of fitted, bright creations. They can destroy the effect of the most sophisticated styling. High-waisted panties can be worn all year round, even in summer. They will be useful both under airy dresses and fitted skirts and waist-length trousers. They will provide comfort and will be an additional protection of delicate skin against all kinds of abrasions. In the winter, however, they will serve as an additional layer to protect against the cold. High-waisted panties go well with all kinds of bras. Matched in terms of cut and color, they can be a unique set of underwear and become a must-have element of every woman's wardrobe. Buy now and see that our offer is perfect for you.