Felina underwire bra moments navy blue 319
Classic and timeless. The Lingerie collection from the Moments line from Felina has been supporting women's breasts for many years, thanks to which it has gathered a huge number of loyal fans.
Biustonosz moments bez fiszbin Felina granatowy 319

Klasyczny i ponadczasowy. Kolekcja bielizny z linii Moments od Feliny już od wielu lat wspiera kobiece biusty, dzięki czemu zgromadziła ogromną ilość wiernych fanek.
 Wygodny miękki biustonosz z bez fiszbin, dla jeszcze większego komfortu.

 Delikatny haft o motywie kwiatowym nadaje serii nieprzemijalny modny 

charakter.

 Boczny klin wzmacniający przechodzi w szerokie i wygodne ramiączko.

 Konstrukcja trójdzielna zbiera i podnosi biust.

 Wykonany z delikatnego, lekko nabłyszczanego materiału.

 Ozdobiony piękną kwiatową koronką.

 Cudowny, głęboki odcień granatu, od którego nie można oderwać wzroku. 

Pięknie prezentuje się po założeniu, polecany pod ciemną odzież.

 Dla uzyskania doskonałego połączenia dobierz figi do kompletu (1319).

 Tył jednolity gładki, zapinany na haftki.

 Ramiączka gładkie, regulowane.

Skład: 79% poliamid, 15% poliester, 6% elastan.
manufacturer's color code
1. Jak znaleźć idealny rozmiar biustonosza?
Aby określić swój rozmiar biustonosza należy zmierzyć obwód pod biustem, obwód biustu oraz dopasować fason odpowiedni do swoich potrzeb. Poniższa tabela pozwoli znaleźć Twój PRZYBLIŻONY rozmiar biustonosza. Aby dobrać IDEALNY rozmiar warto przejrzeć różne fasony oraz pomóc sobie ROZMIARAMI KRYŻOWYMI.
Pomiaru można dokonać samemu lub poprosić kogoś o pomoc.
Stań z prostymi plecami, oddychaj swobodnie - nie wstrzymuj oddechu, bo wtedy klatka piersiowa nadmiernie się poszerza. Użyj miary krawieckiej.
Pomiaru należy dokonać pod samym biustem, dość ciasno, gdyż miarka nie jest elastyczna, tak jak biustonosz, ale również trzeba zachować pewną swobodę. Po odczytaniu wyniku zaokrąglij go w górę lub w dół, np. 72cm do 70 cm, 84cm do 80cm lub 85.
Pomiaru należy dokonać w najszerszym miejscu biustu, dość luźno aby nie ściskać piersi.

Spójrz w tabelę rozmiarów i odszukaj swój rozmiar!

Idealny biustonosz otacza piersi, nie przecina ich ani nie odstaje. Jest komfortowy, leży doskonale.
2. ROZMIARY KRZYŻOWE
Gdy czujesz, że biustonosz nie jest dopasowany idealnie spróbuj jego ROZMIARU KRZYŻOWEGO.
Jeśli biustonosz jest ZA MAŁY pod biustem, spróbuj przymierzyć trochę większy. Zatem zamiast, np. 75C spróbuj 80B. Będzie on luźniejszy pod biustem, ale głębokość miseczki będzie taka sama jak w 75C.
Jeśli biustonosz jest ZA DUŻY pod biustem, spróbuj przymierzyć trochę mniejszy. Zatem zamiast, np. 75C spróbuj 70D. Będzie on ciaśniejszy pod biustem, ale głębokoość miseczki będzie taka jak w 75C.
W razie konieczności skorzystaj z poniższej tabeli rozmiarów krzyżowych.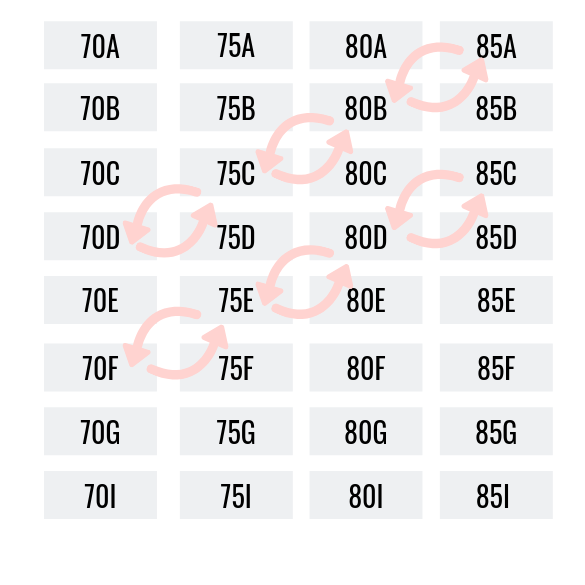 3. JAK DOPASOWAĆ ROZMIAR MAJTEK?
Aby dopasować rozmiar majtek należy pobrać dwa wymiary.
Zmierz:
- najwęższe miejsce talii
- najszersze miejsce bioder

Spójrz do tabeli rozmiarów i ciesz się wspaniałym kompletem bielizny!