Casino Mediolano semi-padded bra, black 01107
Casino Mediolano semi-padded bra, black 01107
We present to you a bra that combines unique design and unrivaled support. The Mediolano Casino semi-padded bra is a perfect combination of elegance and comfort that will surely win your heart.
Main features:
Semi Soft Bra: The Casino bra combines the best features of a soft and padded bra. Thanks to this, it provides light support and a natural shape of the bust.
Highest quality materials: Cups made of foam guarantee comfort of wearing, and the top made of delicate tulle covered with lace gives it extraordinary charm.
Classy Finish: The bra is finished with black piping, which gives it elegance and highlights the details. The lack of side underwires means there are no uncomfortable, noticeable elements.
Silver Ribbon and Adjustable Straps: The arch of the cups is decorated with a silver ribbon, which gives it a subtle glow. The neckline and back are decorated with length-adjustable straps, which allows you to adjust the bra to your needs.
Raw material composition: 88% Polyamide, 8% Cotton, 4% Elastane - a guarantee of durability and exceptional wearing comfort.
The Mediolano Casino bra is a combination of classic and modern design. It's not just underwear, it's an expression of your style and attention to comfort. Discover the unrivaled combination of comfort and elegance in the Casino bra from the Mediolano brand.
1. Jak znaleźć idealny rozmiar biustonosza?
Aby określić swój rozmiar biustonosza należy zmierzyć obwód pod biustem, obwód biustu oraz dopasować fason odpowiedni do swoich potrzeb. Poniższa tabela pozwoli znaleźć Twój PRZYBLIŻONY rozmiar biustonosza. Aby dobrać IDEALNY rozmiar warto przejrzeć różne fasony oraz pomóc sobie ROZMIARAMI KRYŻOWYMI.
Pomiaru można dokonać samemu lub poprosić kogoś o pomoc.
Stań z prostymi plecami, oddychaj swobodnie - nie wstrzymuj oddechu, bo wtedy klatka piersiowa nadmiernie się poszerza. Użyj miary krawieckiej.
Pomiaru należy dokonać pod samym biustem, dość ciasno, gdyż miarka nie jest elastyczna, tak jak biustonosz, ale również trzeba zachować pewną swobodę. Po odczytaniu wyniku zaokrąglij go w górę lub w dół, np. 72cm do 70 cm, 84cm do 80cm lub 85.
Pomiaru należy dokonać w najszerszym miejscu biustu, dość luźno aby nie ściskać piersi.

Spójrz w tabelę rozmiarów i odszukaj swój rozmiar!

Idealny biustonosz otacza piersi, nie przecina ich ani nie odstaje. Jest komfortowy, leży doskonale.
2. ROZMIARY KRZYŻOWE
Gdy czujesz, że biustonosz nie jest dopasowany idealnie spróbuj jego ROZMIARU KRZYŻOWEGO.
Jeśli biustonosz jest ZA MAŁY pod biustem, spróbuj przymierzyć trochę większy. Zatem zamiast, np. 75C spróbuj 80B. Będzie on luźniejszy pod biustem, ale głębokość miseczki będzie taka sama jak w 75C.
Jeśli biustonosz jest ZA DUŻY pod biustem, spróbuj przymierzyć trochę mniejszy. Zatem zamiast, np. 75C spróbuj 70D. Będzie on ciaśniejszy pod biustem, ale głębokoość miseczki będzie taka jak w 75C.
W razie konieczności skorzystaj z poniższej tabeli rozmiarów krzyżowych.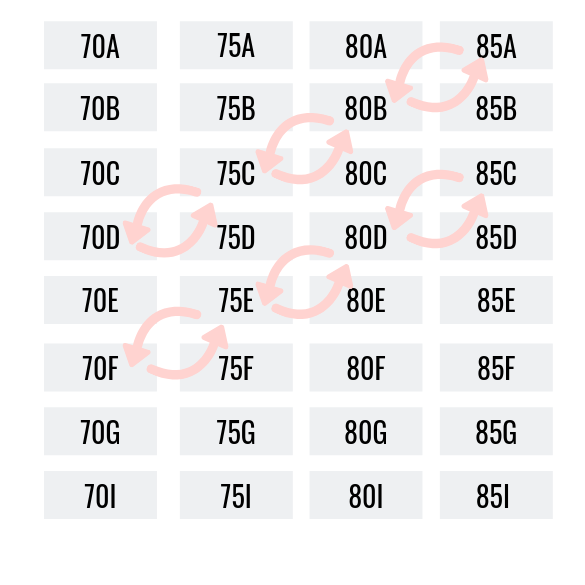 3. JAK DOPASOWAĆ ROZMIAR MAJTEK?
Aby dopasować rozmiar majtek należy pobrać dwa wymiary.
Zmierz:
- najwęższe miejsce talii
- najszersze miejsce bioder

Spójrz do tabeli rozmiarów i ciesz się wspaniałym kompletem bielizny!