Why should you have nude underwear in your wardrobe?
2022-09-01
Nude underwear used to be considered simply a classic. Today it is a strong trend, and celebrities wear it in different ways in their stylizations. Regardless of whether you want to show off it or turn it into an invisible styling foundation, you must have it in your wardrobe. Why? Find out by checking out our post.
Flesh-colored underwear - an absolute fashion phenomenon. This trend is growing stronger!
What underwear is absolutely top when it comes to the latest trends? If you are a regular Instagram user, watching shows and checking out what's new on TikTok, you surely know it perfectly well: nude lingerie. Bras, panties, teddies or underwear shorts in a shade of beige, preferably one that perfectly matches the complexion , are a real hit among celebrities and stylists. Today, not only does it have a practical function as an "invisible" styling foundation, but it is also a strong trend in itself, worn, for example, instead of a blouse or top.
This is best evidenced by the outfits of such stars as Kim Kardashian or the Polish model Sandra Kubicka , who love beige bras. Kim is the author of several lingerie collections, in which beige tones play a key role. Is the fact that the famous American opts for such a solution enough reason to get yourself a set of nude lingerie? Not necessarily. We have a number of other good arguments!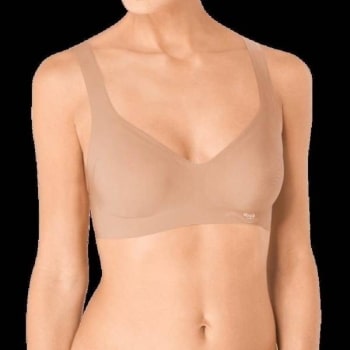 Top Sloggi zero feel bralette push up beige
Nude underwear - a few reasons why it's worth having!
Are you wondering if it is worth investing in beige underwear? We are in a hurry to answer right away: it is clear that such a purchase is justified. There are many reasons that speak for it, and we have collected a few of the most important ones.
It seems to you that beige underwear is devoid of sex appeal, which is even black or red? Nothing could be more wrong. Flesh-colored underwear is extremely sensual and plays with what is visible and what is hidden in an interesting, intriguing way, stimulating the imagination. This applies to both plain sets, made of modal or cotton, as well as lace ones.
As we have already mentioned, nude underwear is very practical. You can put it under various outfits without hesitation, and it will always be a hit, regardless of the color or type of material.
Beige underwear, matching the shade of the skin and not contrasting with it, gives the effect of excellent smoothing of the body , which allows you to achieve the effect of a slimmer figure and even curves. In this context, it is worth taking an interest in shaping underwear, for example from the Triumph brand.
The nude shade never goes out of style and fits every season and every occasion. Such versatility makes it possible to think about buying nude lingerie as a long-term investment in your wardrobe (and indirectly also in your well-being).
How to choose the shade of a nude bra or panties for your skin tone?
Before you choose nude underwear, you need to understand what "nude" really means - it 's a shade that perfectly "mimics" your skin tone , its complexion. If you want a beige bra or panties to really do their job, keep in mind how they match your skin. Some ladies will need underwear in a cool shade of ivory, others - an olive set or one in beige broken with warm pink.
Our tried and tested tip: Approach the topic of matching nude underwear as you would choosing a foundation for your face. Follow the exact same tips and guidelines for shade temperature and you'll find your perfect match!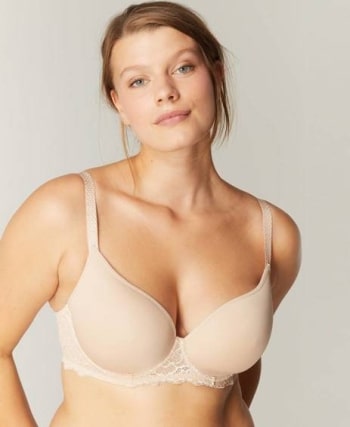 Caresse spacer 3D bra Simone Perele beige 12A316
Nude lingerie and styling - what is worth remembering?
Nude lingerie will work well with many styles, be it a transparent blouse, an openwork dress or an elegant suit. However, to maximize the phenomenal effect , make sure that it fits well on the body (and therefore has the right size). It also cannot naturally protrude, for example, from behind the neckline in the front or on the back. The fact that beige underwear looks as if it is not there does not mean that it is completely invisible!
It is also worth remembering about the texture - wear plain bras under fitted dresses made of thin materials, and lace bras (even nude ones) under wider blouses or creations made of thicker materials.
Stylist's tip: If you're wearing a white sheer blouse, don't choose a white bra underneath it. The nude shade will be less conspicuous!
By reading this guide, you had the opportunity to see that nude underwear is a must have in your wardrobe. You already know how to choose its shade, how to wear it in stylizations and what models to choose. There is nothing else to do but go shopping and invest in a set of nude lingerie from brands such as sloggi - they will be the foundation of many outfits, give you a sense of confidence and that you look great in every situation.