Which bra to choose under transparent clothes?
2022-08-31
Transparent blouses and dresses have captured the imagination of designers and the hearts of fashionistas around the world. Do you also want to follow this trend? Be sure to check which bra to choose under transparent clothes to look fashionable, but above all tasteful.
Transparent clothes - a trend that you cannot pass by indifferently
Transparent clothes are a strong trend that is really worth using in your stylizations. They are worn by Emily Ratajkowski, Bella Hadid, Miley Cyrus and many other stars. For some time, they have been regularly appearing in the collections of well-known brands, from Chanel to popular Polish chain stores. Why is it worth choosing blouses, tops, shirts or dresses made of transparent fabrics? Because they are extremely sensual and at the same time not devoid of character , bold but feminine, allowing for an intriguing game of what is visible and what is hidden.
Regardless of how fashionable a transparent blouse or dress will be, you must choose the right underwear under it. What do we mean by "proper"? Contrary to appearances, the topic is so complex that we decided to collect all the tips in one guide. Check what you should know about it.
Balconette bra Delice Simone Perele 12x330 beige
What underwear to choose under transparent clothes? Get valuable tips!
The matter related to the selection of underwear for transparent clothes is quite complicated. It all depends on what occasion you are going to and how you want to look . Make the choice of a bra dependent on this - it can either be conspicuous and contrast with the color of the top, or remain invisible. For example:
Are you going to an elegant dinner in a transparent chiffon blouse? Put on an elegant seamless bra in a nude shade underneath. The idea is to get the effect of a second skin, a neutral background.
Want to go crazy at a party? Under the super-fashionable mesh tops, you can confidently choose bralettes in a contrasting color.
Are you planning to create a sensual outfit for a date? The perfect idea will be to choose underwear that "repeats" the color of the transparent clothes. A burgundy bra under a blouse in this shade made of mesh? A few style points for you!
When it comes to the right bra for see-through clothes, pay more attention than usual to how it fits on your body . The wrong size will be visible to the naked eye, regardless of whether we are talking about cups that do not adhere to the body or too tight straps.
What color of underwear to choose under see-through clothes? Here's the answer!
We touched on the issue of color in the previous section, but it is worth devoting more space to it. Are you wondering what shade of bra will work under transparent clothes? The rule is simple: if you want to look elegant, choose a bra in the same color as the outfit or a nude one that will remain invisible.
If your goal is to attract attention or create a look inspired by the turn of the 90s and 2000s, you can choose bras in contrasting colors . Dark purple under a celadon blouse? Why not - as long as the whole look is well thought out and consistent, you can get a very interesting effect in this way.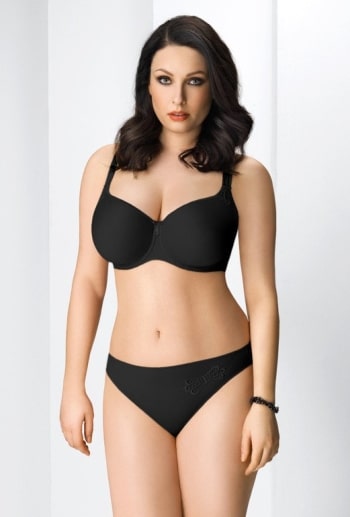 Corin virginia bra black 17871
What mistakes to avoid when choosing underwear for transparent clothes? we suggest!
By reading our guide, you must have already noticed that there is one rule when it comes to choosing underwear for transparent clothes: "it depends" . Similarly, when it comes to possible styling mistakes: depending on the occasion, the specific outfit or the level of your nonchalance, the same thing can be both an absolute faux pas and a great choice. So is it possible to list errors that can be called universal? Yes. Here they are:
Never wear worn-out underwear, for example with stretchy straps or a low-elastic waistband, under transparent clothes. It will be conspicuous under the see-through material!
For occasions when you are supposed to look elegant, do not wear bras that are too bold, sexy, erotic or eye-catching in color or pattern under transparent blouses or shirts. In such cases, go for the classics.
All in all, under transparent clothes, you can wear both a classic, plain seamless underwear in a neutral shade and a colorful lace bralette - it all depends on what your styling idea is. Felina, Ava or Corin bras , which you can find in our online store, are perfect for transparent fabrics.