What pajamas to choose for the summer?
2022-06-01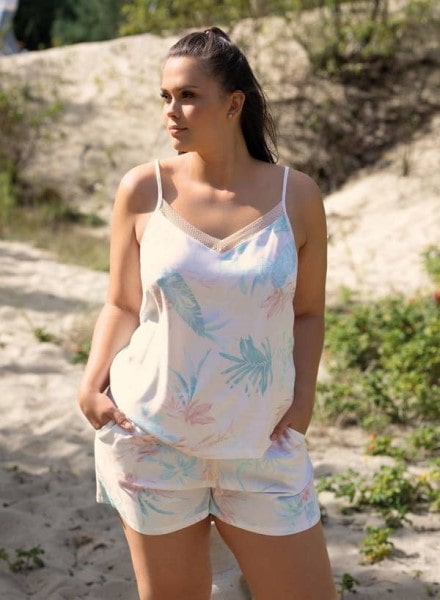 Perfect women's pajamas for the summer - what should they be like? Come with us on a journey through trends and discover the most fashionable models of nightwear in which you will sleep comfortably and stylishly, regardless of the temperature.
Pajamas for the summer - discover the most important trends and choose the model for yourself
We don't have to convince you that a comfortable sleep greatly affects our mood during the day, resistance to stress, physical condition and many other aspects? That is why it is worth taking care of the right conditions in the bedroom, but also choosing the right underwear for sleeping : comfortable, airy, but also one in which we are simply happy to go to bed. It is worth bearing in mind that pajamas in which you sleep in winter will not necessarily work well in summer - the choice of styles and materials should be adapted to the temperature, air humidity, but also to your own preferences that change throughout the year. What requirements must women's summer pajamas meet? Let's check.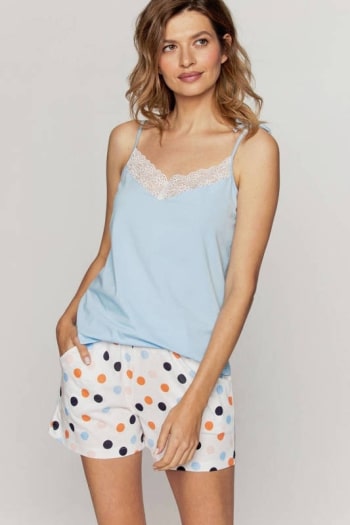 Women's summer pajamas Cana 954 blue
Long or short shorts? What style of women's pajamas for the summer to choose?
If you're a firm believer in pajamas over nightgowns, in the summer you may be wondering what exactly to choose: long or short legged trousers, a camisole or a long sleeved shirt? The truth is, it… it depends. For example, if you sleep in an air-conditioned room, cotton summer pajamas will be much better than a thin polyester set with shorts and a tank top. Do you feel better in oversize cuts? A loose shirt and long trousers, but made of, for example, airy viscose, will be the perfect solution.
Some ladies prefer to sleep under a thin blanket in warm pajamas, while others prefer a decent eiderdown, but they will not sleep without thin and short pajamas. To sum up - adjust the specific style of nightwear to your needs, taking into account weather conditions and individual preferences. You will definitely have a lot to choose from!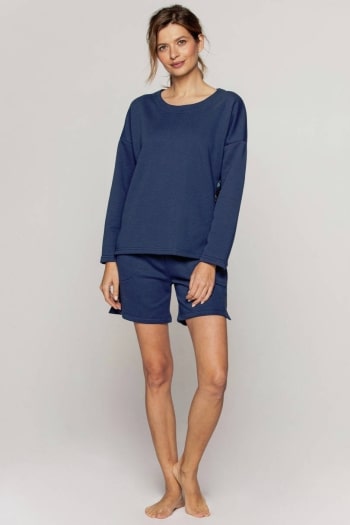 Cana 933 tracksuit set navy blue
Women's pajamas for the summer made of cotton, i.e. comfort in the main role
Women's cotton pajamas are one of the best solutions when it comes to summer sleeping underwear. Cotton is a material that works perfectly in such circumstances: it is airy, allows the skin to breathe, prevents the accumulation of moisture on the skin, and additionally has thermoregulatory properties, which means that it cools in high temperatures, and warms in low temperatures. Women's summer pajamas made of cotton fabric are available in many different styles. The most fashionable at the moment are undoubtedly sets inspired by men's wardrobe: with a button-down shirt with a collar and shorts or long trousers. Stylish cotton pajamas for the summer can also resemble a classic, casual set made of tracksuit fabric or consist of a T-shirt and soft trousers. When shopping, be sure to take a closer look at pajamas with fashionable patterns, for example referring to the world of fauna and flora or classic retro polka dots.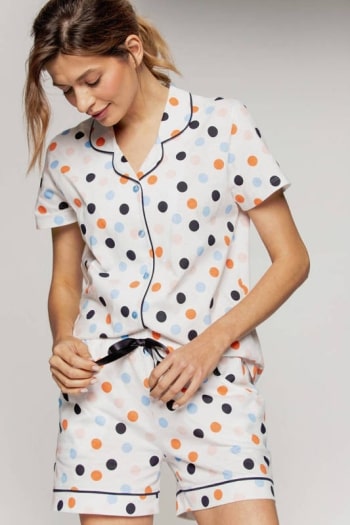 Women's pajamas Cana 952 polka dots
Viscose sleepwear - a great alternative to summer pajamas made of cotton
An alternative to women's summer pajamas made of cotton are those made of viscose. This material is produced as a result of chemical processing of wood cellulose and is increasingly used in the clothing industry. What are its advantages in the context of nightwear for hot weather? It allows for quick evaporation of moisture from the skin surface and air circulation, it is also extremely soft and pleasant to the touch, and also durable. Plus, it's also easy to iron. Thanks to the fact that the viscose material is light and flexible, pajamas made of it will always favor your comfort, even in the maxi version. Look for such models in our online store!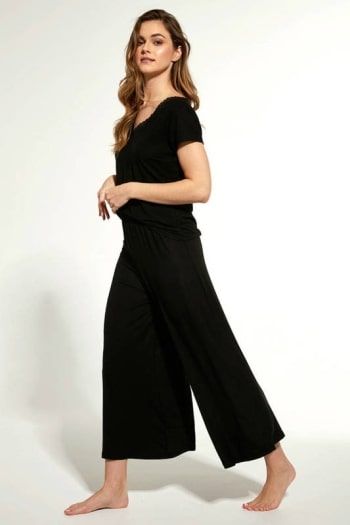 Women's pajamas made of viscose Cornette 270/240 black
Women's pajamas for the summer with lace - a bit of summer chic
Need something extra for a special summer night? Or maybe you don't like casual sets made of patterned cotton and prefer to feel like a queen of style in your own bedroom? Lace pajamas for the summer are something just right for you. Choose those of good quality, made of soft and airy materials that do not irritate the skin and do not increase the accumulation of sweat on the body. You can choose from sexy lace sets with shorts and a tank top, but also comfortable women's pajamas for the summer made of knitted fabric decorated with impressive, feminine lace. It's a fantastic alternative to ordinary cotton models!
Thanks to the tips we have prepared, you already know what style of women's pajamas to choose for the summer and what materials are the best when it comes to underwear for sleeping on hot days. Now it's time for you to choose the right model of pajamas for yourself and take care of your comfort regardless of the temperature.