What bra will work for sagging breasts?
2022-09-05
Your breasts are large, but not firm enough? With age or after pregnancy, your breasts have lost their elasticity and you are not satisfied with their appearance? Don't worry: all you have to do is choose the right bra that will take care of them properly and will expose them well, and will also improve your well-being. In this guide, we suggest which bra models for sagging breasts will work best.
Why do breasts lose their firmness? Learn the causes of the loss of breast elasticity
Before we get to the selection of the perfect bra for sagging breasts, let's focus on the very reasons for how your bust looks. You may have inherited its appearance in your genes, but it can also be the result of hormonal problems, pregnancy or intense weight loss - in each of these cases there is a change at the level of tissues and collagen production. The loss of firmness is also affected by age and gravity, incorrect posture, avoiding physical activity, improper diet, as well as wearing incorrectly selected underwear or giving up a bra for years.
Ways for sagging breasts - how to deal with it?
Saggy breasts are a nuisance for many women who often decide to test all possible ways to improve the appearance of their breasts. The most drastic of the methods are various types of aesthetic medicine or plastic surgery, but they are associated not only with high costs, but also with great risk .
How to cope? It is definitely worth starting with regular exercises that will improve the flexibility of the chest muscles - for example, the fly. It is also worth using special serums and breast firming creams containing natural oils or collagen. If you want your breasts to look attractive, try to avoid the sun, solarium and sauna , do not take hot baths too often, try to eat healthy, wholesome meals and drink as much water as possible.
Invaluable help in the context of loss of breast elasticity is also choosing the right bra , which will not only improve their appearance, but also stop further problems with sagging breasts. Read on and you will find out what underwear will be the best.
Spacer3D Bra Corin Virginia navy blue 17871
What should be a bra for sagging breasts?
The choice of a bra for sagging breasts must be carefully considered - in the case of such a "defect" of the figure, the underwear must be even smarter and more functional than when the breasts themselves look perfect. First of all, use a tailor's tape to carefully collect all measurements - bust and underbust circumferences and look for the right size in the table provided by the manufacturer. The key for you will be a smoothly lying cup, tight circumference and straps of optimal length, which neither roll up on the shoulders nor dig into the body.
Our tip? Don't forget that the bra for sagging breasts, which you are looking for so urgently, should be not only practical, but also fashionable, pretty and in your style - such an accent in the styling will make you feel much better right away.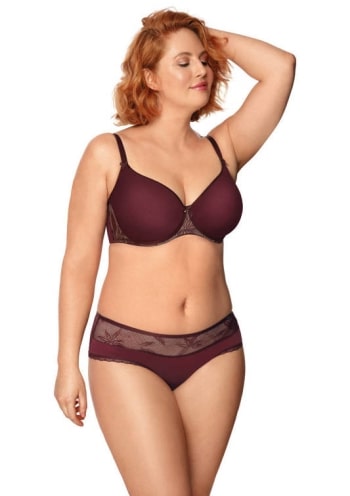 Padded bra Zafira Nipplex burgundy
The best models of bras for sagging breasts
What bra for sagging breasts will be perfect? First of all , it is worth choosing bras that are stiff at the bottom and soft at the top , i.e. the so-called semi-soft models. Thanks to their unique design, they support the bust well from the bottom and slightly push it upwards, but at the same time they do not give the effect of an empty cup at the top - a delicate mesh or lace finish subtly surrounds the soft bust and adapts to its shape.
An excellent choice for women who struggle with sagging breasts are 3D spacer bras made of an innovative, ultra-light material that not only lets air through, but also perfectly adapts to the body, guaranteeing a beautiful breast appearance and maximum comfort. An example of this type of bras for sagging breasts, which combine functionality with a reasonable price, are the Felina bras from our online store.
If you are going to improve the appearance of the breasts with exercise, also buy a good quality sports bra, which will hold the sagging breasts well during intense movement, while strengthening your confidence . Built-in, flexible bras with underwiring or special tapes that replace the traditional construction will be a great choice for you.
Loss of breast firmness can be caused by many factors. The effect is that the breasts lose their roundness and volume, and you - self-confidence. Fortunately, you can deal with this shortcoming, and one of the methods is to choose the right bra . Thanks to our tips, you will easily choose the right one.