What bra for large breasts? Check out our guide and choose the best one.
2020-05-20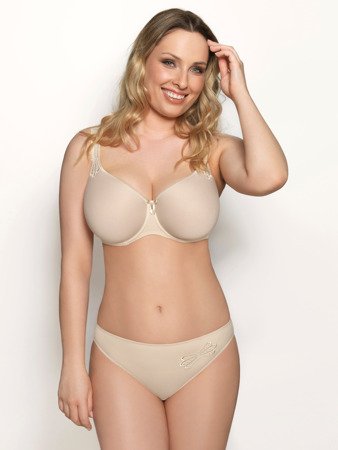 A properly selected bra, especially when it comes to large breasts, not only ensures the correct posture, but also makes clothes fit better on it.
Which bra for large breasts?

As research shows, as many as 60% of Polish women can boast of large breasts. Unfortunately, although it is admired by men and envied by women with small breasts, it is often problematic for its owners. They struggle with problems such as back pain, abrasions and skin irritation or even choosing the right clothes. Many of them have a problem with matching the right model of a bra to a large bust , which would beautifully emphasize it, while guaranteeing high wearing comfort.
Plenty of people still think most models end up in a D cup; that the colors in larger sizes are kept to a minimum - white, black, beige; that the choice is limited to full, very built cuts with wide straps - in short - nothing that would be worth paying our attention to. Let's destroy these stereotypes, learn about new styles, new solutions and technologies, let's admire the colors. Check out our guide and we'll tell you what to look for when choosing the perfect bra for large breasts.




Bra Corin Virginia 17871 beige


Why is it worth choosing the right bra for large breasts?



Although most women dream of big, full breasts, their owners have a lot to complain about. Abundant breasts can cause problems such as:

• Back pain - the weight of the breast puts too much pressure on the spine, shoulders and neck, making everyday activities difficult. Sometimes large breasts also cause headaches.

• Skin abrasions - a large proportion of people with large breasts wear an incorrectly fitted bra. When the breasts touch the skin of the torso, we are dealing with the development of irritation. This problem usually occurs in the summer.
• Stretched skin - as a result of insufficient support of the breasts by an improperly fitted bra (especially during sports), their firmness is lost.

• Unsightly appearance - when the bra is too small, its cup will create an unsightly cut. The breasts then spill out of it at the top and do not form a straight line of the neckline.

• Hollows on the arms - when choosing a bra that is too loose, the straps carry 80% of the weight, which causes them to collapse and create inelegant hollows, which sometimes cannot be removed.

• Bad mood - insufficient knowledge of the variety of models and colors of bras for large breasts (which, if properly selected, can make the silhouette look slimmer and the clothes fit better) makes the owners of such breasts treat the purchase of this type of underwear as an unpleasant duty and not an opportunity to cheer up.




Soft bra Tiffany Felina beige 805821


How to choose the perfect bra for large breasts?


Before buying a bra for large breasts, it will be necessary to find your size with the right measurements.
A well-fitted bra will ensure that the breasts are optimally supported by it. The circumference should fit perfectly, even if the bra is fastened to the last hook. A bra with a well-chosen circuit does not move upwards, and at the same time holds the breasts properly, thus relieving the shoulders. Just like that! It's the circumference of the bra and how it adheres to the body is 80% of breast support. Straps are only 20%, so bras for large breasts do not have to have wide and crude straps. When buying this type of underwear, we can look for solutions with thin or decorative variations.

Adequately, owners of cups larger than the infamous "D" can easily search the shelves with bras that do not have these straps at all, because properly fitted they will stay without moving for a very long time.
An equally important element of a bra for large breasts is the cup, which must gather the entire breast inside, while not cutting it in the upper part. A reliable element of the construction of bras are underwires, which are sometimes disliked, but they provide a completely different look of the bust thanks to their use. Underwires must cover the entire breast from the sternum to the height of the armpit, without causing any discomfort. Their widths, spacing and settings are different, so you need to pay special attention when measuring so that they do not crush the bust, do not dig into the skin and do not go too high under the armpit.





Soft bra Provence Felina black 80505




Types of bras for large breasts


What kind of bras are best for large breasts?

Full - cup - the cups of such a bra surround the entire breast, giving it a rounded shape. This type of bra effectively supports large breasts and is very comfortable. Well suited for everyday wear.

Buster - this type of underwear is a combination of a bra and a corset. It exposes the bust, providing it with optimal support, and what's more - it nicely shapes the figure. Such a bra will work best with slightly larger cleavage.

Minimizer - all women who want to optically reduce their breasts should buy such a bra. This bra slightly flattens the breasts from the front and pushes them to the sides. In this way, you can get the effect of reducing up to 1 size.





Semi-soft semi-soft bra Ava black AV 1030




Bras for large breasts from our offer


Which bra models from our online store will work best for large breasts?

Bra Corin Virginia - this model has side whalebones that additionally collect the bust. It also has fully adjustable shoulder straps. The bra is made in the SPACER 3D technology, which is breathable and allows the skin to breathe. The cups of the bra have been thermoformed, which makes them slightly stiffened and completely smooth, thanks to which they are invisible under clothes.

Tiffany Felina bra - the bra has a three-part structure that perfectly collects and lifts the bust. It is also equipped with underwire and adjustable straps. Thanks to the slightly shimmering lace with a floral motif and shimmering embroidery on the transparent tulle, the bra looks beautiful.

Rainbow Gorsenia bra - what distinguishes this model is that the circumference belt is made of stable embroidery combined with high-weight lycra. This makes the bra supports and stabilizes the bust very well.