What bra for a small bust?
2022-04-01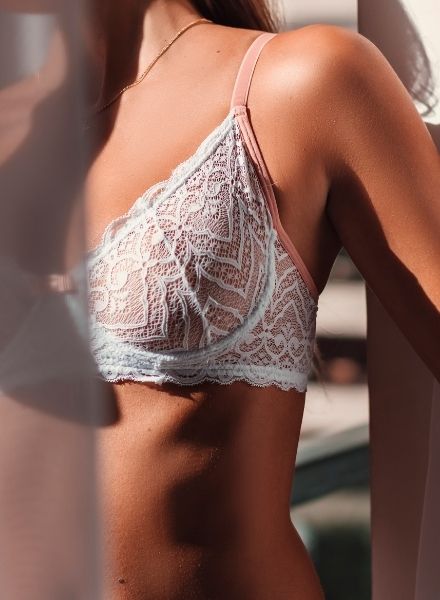 Small breasts do not have to be a reason to be ashamed! You can show off your figure with pride in a bra with soft cups or choose a bra that gives the illusion of more volume. If you don't know which bra for small breasts will be the best, check out our post and find the model for yourself.
Small bust is your problem? Not any more! Check how to choose a bra for small breasts
Small breasts can look phenomenal if they are framed properly. How to emphasize the beauty of a small bust? How to make them look better in a dress with a deep neckline or a more heavily cut blouse? How to add volume to them and optically enlarge them by a size or two? Just invest in the right bra for small breasts. You can choose it easily if you check in the further part of this guide which cuts are most conducive to small breasts, and then adjust it to the styling, occasion and your needs. Below is a pill of knowledge you need to feel even more feminine and confident.
A bra for a small bust? Push-ups of course!
When it comes to a bra for very small breasts, the best solution is to choose a classic push-up bra. Its construction is simple: it is based on cups with a special foam filling that adds volume to the breasts and makes them look even several sizes larger. Modern push-up bras are very comfortable, thanks to breathable materials and flexible underwires that adapt to the shape of the body and its movements. Among bras of this type, you will find not only elegant models for special occasions, such as the Zara bra by Nipplex , but also those perfect for everyday use, such as the smooth Ida push-up bra, also from the Nipplex collection .
Which lifting bra for a small bust? Choose a balconette or balconette
The construction that flatters small breasts also has the so-called baldotka , i.e. a bra that lifts the breasts from the bottom. Thanks to the fact that it supports them, gives them a round shape and exposes them more than in the case of an ordinary bra with a built-in cup, even small breasts look appetizing and sensual. A bardot with straps, the so-called balconette, will also be a great choice if you are looking for a bra for small breasts. Example? The Delice Simone Perele bra features intricate lace detailing that adds femininity to all cup sizes.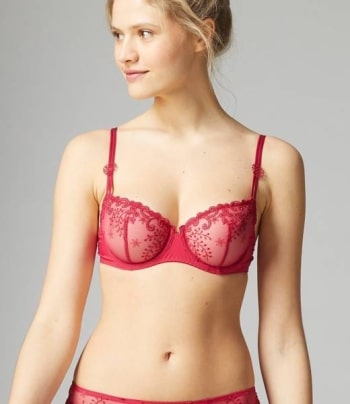 A bra for very small breasts: a plunge bra
A bra for small breasts to wear every day and for special occasions? A plunge bra, i.e. a model with a lowered bridge and higher cups on the outside and forming a V-shaped cutout. Thanks to such a construction, additionally often supplemented with foam inserts, a plunge bra for small breasts lifts, rounds and optically enlarges the bust. Such underwear is worth putting on a dress or blouse with a deeper neckline, especially an envelope one. An example of a plunge bra is the Secret Garden padded bra by Felina .
The perfect non-wired bra for small breasts in a soft version: the bralette
If you are proud of your small bust and do not see the need to wear underwear that will enlarge it, put on the recently favorite bra model of celebrities and influencers: a soft bardot. The non-wired bra can be made of delicate lace or practical, smooth microfiber (like the Sloggi zero feel n 2.0ex bra ) - in each version it provides a very natural effect, full comfort and freedom of movement. Bras of this type are perfect for transparent blouses or dresses, because they are not associated with an overly vulgar style.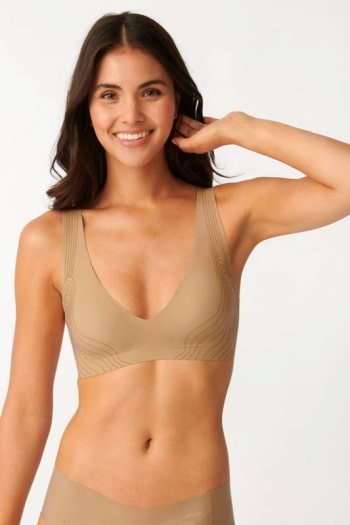 Self-supporting bra on small breasts - an option for demanding occasions
If you are getting ready for a special occasion and plan to wear an outfit that reveals your back or attracts attention with a very deep cut at the front, it is worth choosing a specialist bra without straps and without a girth. Self-supporting bra on small breasts? Yes, that's a very good idea! The self-adhesive, inner layer will stick to the body stably, and if you position the breasts properly before applying the bra, you will conjure up the effect of lifting and rounding the breasts even without underwires and straps!
A non-wired bralette bra, a classic push-up bra, or maybe a self-supporting model? Each of these types of underwear will work for small breasts - it depends on what styling you put it on and what effect you expect. For more models from well-known and popular brands, check out our online store, where the best bras for small breasts are waiting for you.