What bra for a backless dress?
2022-03-09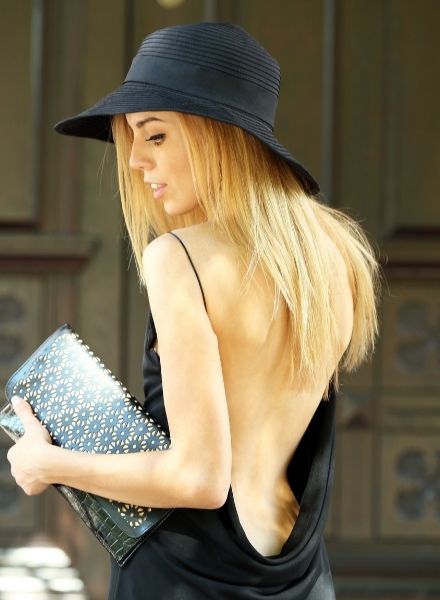 Elegant and feminine dresses with a back neckline have not gone out of fashion for years. They look spectacular in the summer or in the evening, but they require a well-thought-out selection of underwear. The main assumption: a bra for a dress with a back neckline should be invisible. What bras will meet them? In this guide you will find out the answer to this question.
Dress with a neckline on the back - with or without a bra?
Dresses with a neckline on the back have not gone out of fashion for many years, always associated with femininity and chic. In order for them to look elegant, however, they must meet one basic condition: expose the naked back, without any underwear straps. If you want to fulfill it, you have two choices: giving up underwear completely (as many influencers like Kendall Jenner do) or choosing the right bra for the open back. The first method will work in the case of owners of small and firm breasts, and even then it is worth trying adding accessories, which we will describe later in this post. Do you feel more confident and comfortable when your breasts support a bra? See which models are worth choosing with back-cut creations to look perfect without giving up your comfort or freedom of movement.
What bra for a backless dress? Bet on an invisible self-supporting bra
This is the premise of almost every lingerie expert: there is no better bra for a backless dress than a self-supporting bra , without straps and a girth that could remain visible in the deep neckline at the back. This type of bra consists of interconnected cups, covered from the inside with a special self-adhesive layer, which are glued to properly arranged and collected breasts. Contrary to appearances, models such as the Wing self-supporting bra by Julimex perfectly stick to the body and perfectly support the bust, emphasizing its round shape. Without any shifting in motion and without straps visible on the back, you can achieve the effect of perfect breast stabilization and their optical enlargement - exactly the same as in the case of classic push-up bras with a girth and straps.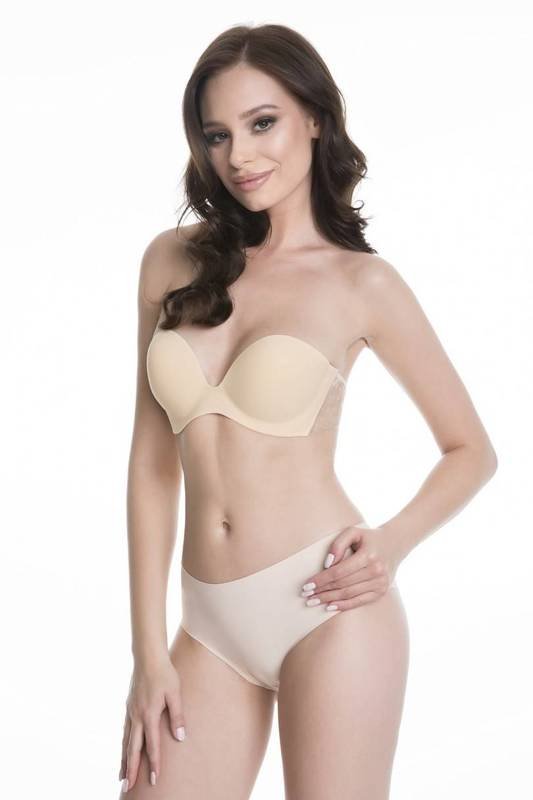 Multiway, the best bra for a dress with an open back
What bra will be perfect for a dress with an open back? A multiway bra, i.e. one that has straps for any fastening, depending on the cut of your creation. You can fasten it in such a way that the two straps cross on the back below the edge of the neckline, so the underwear will remain completely invisible. When it comes to the cut of the bra itself, it can be both a classic push-up plunge and a balconette - here the most important thing is how the underwear is fastened.
Strap that lowers the clasp - the bra for a backless dress is ready in seconds
If you do not want to invest in a new bra for a backless dress, you can also choose a special strap that lowers the clasp of your favorite bra. It allows you to achieve a similar result as the one described above in the section dedicated to multiway models: instead of the classic hook-and-eye fastening, there will be two crossed stripes on the back, which will not be visible even in the case of deeper cuts. If you like to be perfectly prepared for every circumstance, it is worth investing in such a gadget. You will find it in our online store - we recommend, for example , a black double-breasted Julimex belt . An alternative to such a belt can also be a neck strap, which will be perfect for creations with the so-called American neckline, i.e. with a deep neckline and a belt of material that rests on the neck.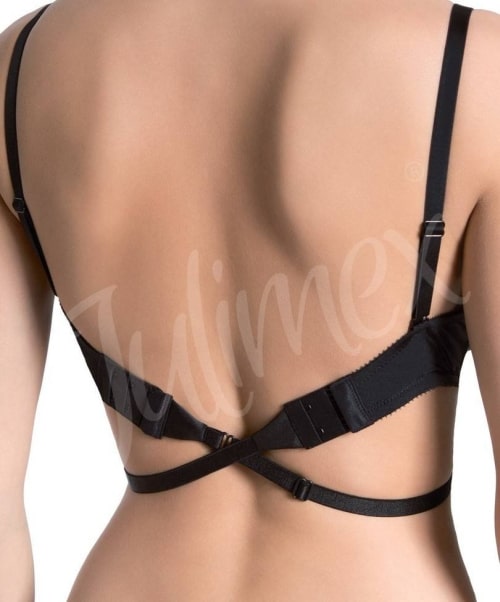 What instead of a bra for an open back? Discover smart methods and accessories
As we mentioned in the introduction, open-back bras are not the only solution - you might as well give up underwear altogether. However, if you don't feel comfortable then or there is a chance that your nipples will show through the material of the dress, bet on a little help: special stick-on silicone shields with a self-adhesive layer, thanks to which the outfit will lie on the body smoothly and the nipples will not stick out Eyes. Good news? You will pay literally a few zlotys for clever heart-shaped casings from the renowned Julimex brand .
A dress with a neckline on the back is extremely feminine and looks spectacular both at a summer party and at a New Year's Eve party. As you already know, however, it requires choosing the right underwear that will not spoil the perfect look. Thanks to the tips that we have described in detail in this guide, the question of which bra to choose for creations with a cut-out at the back has no secrets for you. For more lingerie models suitable for demanding styles, from the brands Felina , Julimex or Nipplex, check out our online store.