What are the types of women's panties?
2022-03-23
Thongs, shorts, brazilians, tai... There are a lot of types of women's panties, each of them has its own use for different types of stylizations and other types of figure. If you want your underwear to fit perfectly, start by learning about the differences between types of panties and when it's best to reach for them.
How to choose the style of panties for yourself and why is it so important?
It would seem that the choice of women's panties is not such a problem - after all, they remain invisible under clothing. It turns out, however, that small differences in cut are enough to completely change not only the appearance of your figure, but also the way clothes fit. It is good to think of panties as a very important foundation of styling, from which it is worth starting to choose subsequent elements. How to choose the style of panties for yourself? Take several aspects into account:
First: adjust the panties to your figure. It's not only a matter of how you will look in your underwear - in case someone were to see you in such a version, but also, above all, your confidence and well-being. It's good to know that we look great no matter the situation.
Second: choose the type of panties that looks best under the styling. Example? Thongs will be best under narrow trousers, while shorts can be worn under wide leg jeans.
Third: pay attention to the color, pattern, texture and finish of the underwear - they are extremely important for the final effect. Panties should always remain invisible, unlike a bra, which according to the latest fashion can play an important role in an outfit from time to time.
If you want to refine your styling down to the smallest detail, get to know the most popular types of women's panties.
Thong panties, a bit of spice every day and more
Thongs are a type of panties that have been popular among women for years. These are panties that are very cut at the back, sometimes they have only a narrow belt or even a string ("string" in English is just the same as "string"). This type of panties exposes the buttocks, so it is reserved for brave and self-confident women. They are great under fitted clothes, for example, narrow pencil skirts or skinny pants, because they do not cut the buttock in half.
Well-known and popular brazilian panties - sexy underwear in everyday edition
Brazil panties , or Brazilian panties, are a type of panties inspired by the beaches of South America. They have a more cut buttock part, but not as boldly as in the case of thongs. They perfectly emphasize feminine curves and are the perfect type of panties for hourglasses or pears proud of their figure. Brazilians can prove themselves every day, under casual, loose clothes. Want to wear them under a tight dress? Go for seamless panties with a laser-cut, smooth edge (for example Sloggi zero lace 2.0 panties ).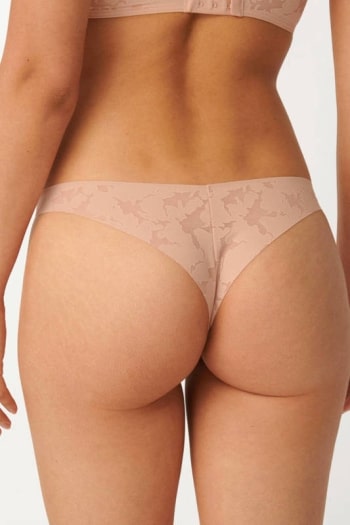 Tai panties, i.e. underwear that will optically slim your legs
The most characteristic of women's tai panties are the narrow sides that make the legs appear longer and the thighs slimmer. Such underwear is irreplaceable for women who complain about too short or massively built bottom of the figure. Comfortable underwear of this type can be worn both on a daily basis and for special occasions - in our store you will find models of tai panties made of smooth microfiber in a nude shade and sensual red lace.
Shorts - the most comfortable panties in the world!
Shorts, often in the version called hipsters (otherwise hipsters), are tight-fitting panties with longer legs. They are extremely comfortable, give a sense of freedom of movement and self-confidence. Due to their cut, they are recommended for looser clothes, for example joggers. But beware: shorts can be the most feminine, an example of which is the mint model of Delice Simone Perele panties .
High-waisted maxi briefs - subtle modeling and retro charm
Maxi panties are a built-up type of high-waisted women's panties. They are associated with former elegance, and most often they have a typically practical task: they subtly flatten the tummy and control the excess of curves around the hips. They are the perfect underwear for matching dresses and trousers, shorts or skirts with a high waist.
Shorts, thongs or brazilians? If you have read our guide from cover to cover, you know that each of these types of women's panties has a different purpose and fits a different type of figure. Thanks to us, you will be able to distinguish tai briefs from brazilian briefs and you will know which clothes are best to wear with high-waisted panties. If you are looking for a panty cut in the right color for you, check out the offer of our online store with the most popular brands.