How to choose a swimsuit that will slim you down?
2022-05-30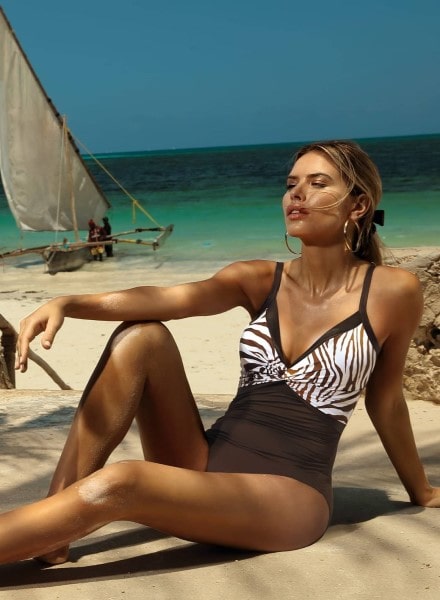 Slimming swimsuit does not exist? Not true. Not only do we want to convince you that you can easily find a suit in which your silhouette will look slender, but we also want to suggest ... where to go to buy the perfect model. Check what models of clothes we recommend!
Slimming swimsuit - an object of desire for summer 2022!
In the summer of 2022, we want nothing more than salty sea water, a large dose of sun and a swimsuit in which we will look perfect. If your mood on the beach is usually spoiled by the thought of a protruding belly or an insufficiently cut waist, invest in an outfit that works like shapewear, while guaranteeing you complete freedom of movement, appropriate softness and comfort.
The expectations of modern women have become a matter of honor for designers of many brands, because in the collections for the summer of 2022 you can find many models of swimwear that meet the highest criteria of functionality and aesthetics. An example may be those from the collection of well-known and popular brands Felina or Feba. What models of costumes should you choose to feel like a resort goddess? In this guide you will find an answer tailored to your needs and your style.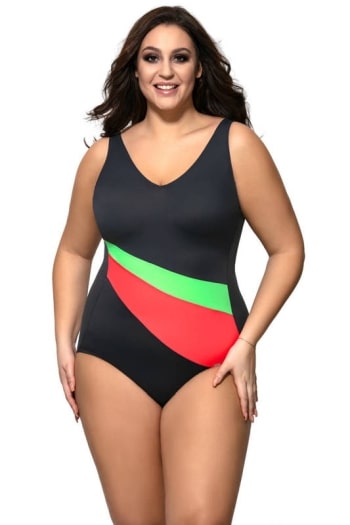 One-piece swimsuit Ava SKJ 32 graphite
A swimsuit that slims your tummy? Pay attention to these trends
Before the holidays 2022, are you looking for a slimming swimsuit that will fit into the trends? It's not difficult - among the proposals of modeling outfits in our store you will find variants that correspond to all current trends from the world of fashion and Instagram. Here are some examples:
two-piece outfits with a higher waist and a built-in retro style bra;
tummy-slimming swimwear in an elegant, almost star-like spirit - with ruffles or an envelope cut line;
swimwear in which the figure looks slender;
boho costumes, with fringes or frills.
Exactly such models of clothes are worn by models on the catwalks, and are followed by fashion enthusiasts on beaches all over the world. If you need to mask such imperfections of the figure, such as a waist band, protruding belly or sides, you don't have to give up on a great look - beach trends for summer 2022 can be reconciled with the modeling properties of costumes. Which variant will be better: one-piece or two-piece slimming swimwear ? Check out both options and learn about their advantages.
One-piece swimsuit Feba Simple cut navy blue F31/837
One-piece slimming swimwear - which models of swimsuits to choose?
A swimsuit that effectively slims the belly, but with class? Choose a one-piece model that will not only highlight your waist more strongly, but also reduce the visibility of the donut around it. Avoid plain and thin costumes that will emphasize the shortcomings of your figure. Instead, reach for swimwear with spectacular draping, contrasting panels sewn under the bust or an envelope (i.e. diagonal) cut line. Such details as, for example, a decorative clasp that "collects" the gathered fabric of the costume on the side are welcome.
Also, keep in mind the colors and patterns - one-piece slimming swimsuits that really do their job, they can be black or navy blue, but don't be afraid of patterns. Inserts in different colors, properly arranged laces, longitudinal or diagonal stripes will visually improve the proportions of the figure and make you look as if you were at least 5 kg lighter!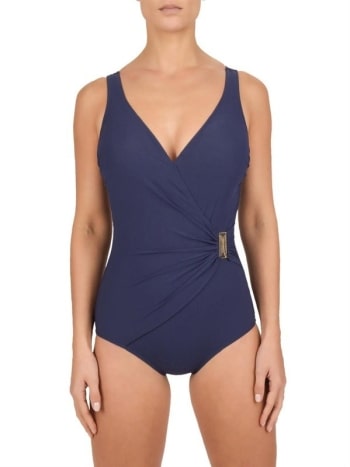 One-piece swimsuit Felina navy blue
Two-piece slimming swimwear - costumes that may come in handy
Aretwo-piece swimsuits a good idea if you struggle with bellies or a protruding belly? Absolutely - all you need to do is reach for properly designed models, for example from the Felina brand. Instead of a soft bikini tied with thin strings, choose a swimsuit with genuine shaping properties. Built-up panties with a higher waist should be sewn from a modern material that provides comfort, but also keeps all curves in check. It is worth paying attention not only to the height of the panties, but also to the cutout - if it is high enough, the legs will seem slimmer and longer. The bottom of the slimming two-piece swimsuit can have a contrasting stripe, which will further enhance the slimming effect.
The bra is also important - the bust in well-constructed cups will look better, thanks to which it will distract attention from the stomach, hips or thighs. To intensify this impression even more, choose a top in a contrasting color, with an effective binding, ruffle or frill.
Padded swim bra Ava SK-13 black
If you want to feel more confident and feminine on the beach, reach for a slimming swimsuit that will optically improve the proportions of your figure and make it look extremely shapely. In a fashionable one- or two-piece madman, you can cleverly hide the fact that you didn't manage to get in shape before the holidays (or you had much better classes!).