How to choose a swimsuit for your figure? 6 tricks you should know!
2022-06-09
What swimsuit will be suitable for a large bust, and which one for a figure with wide hips? What outfit should plus size ladies choose, and what will be better for a boyish figure? This practical guide aims to show you that choosing a costume for your body type can be a fantastic game based on very simple rules. Here are the most important ones!
Trendy swimwear for every figure for summer 2022 - get inspired by designers' ideas!
The most important trend this summer is... the body positive movement, which convinces us that absolutely every figure is beautiful: plus size, boyish, with or without a waistline, with massive shoulders or wide hips. It's time to understand that you are beautiful too, and your proportions don't matter. Celebrities from Anja Rubik to Selena Gomez and Ashley Graham argue that any body can be awe-inspiring. Even in summer, on the beach, in a swimsuit!
This year, this is confirmed by designers who promote not only skimpy bikinis for perfectly built silhouettes, but also solidly constructed bras or high-waisted panties. The trends for the summer of 2022 are full of various types of bindings, accessories, prints or inserts that optically shape the figure. So you can proudly show off your figure at the beach and trust in swimsuits that show off your best side. What style of swimsuit to choose for YOUR figure? If this interests you, read on!
How to match a swimsuit to your body type? Start with that
Before you read the advice we've collected from friendly stylists, start by figuring out what body type you have. You don't have to fit into any rigid framework for this. However, it is worth being aware of what is most characteristic of it and how to influence the proportions to reduce the differences between, for example, broader shoulders and narrow hips. Now go to the most important issue, i.e. the relationship: a swimsuit and a figure.
1. What outfit fits a figure with small breasts, and what will be better for a large one?
The first basic rule that is of great importance to how you look at the beach: choose a swimsuit according to your bust size. If your breasts are firm and small, you can safely choose a bikini top in the form of soft triangles connected with thin strings. A swimsuit for large breasts should be definitely more solidly constructed - underwiring, wider straps or a clasp that you can trust are elements that will allow you to feel good and prevent the bust from "spreading" to the sides. If you choose a one-piece swimsuit for swimming or other activities, also look for one with reinforced, padded cups, as in the case of the Atramento swimsuit by Ava.
One-piece swimsuit Ava Atramento SKJ 43 navy blue
2. How to hide big hips and thick thighs in a costume? The best tip for the pear figure
Are you troubled by wide hips and massive thighs? Don't think that you should spend your time in a hotel rather than by the sea because of this! All you have to do is choose a swimsuit model in which the pear-shaped silhouette will look more proportionate and light. Contrary to appearances, built-in panties in the form of shorts will not be your ally - by wearing longer legs, you will additionally emphasize the impression of heaviness at the bottom of the figure.Two-piece swimsuits with a higher cut for the legs will be definitely better, which will visually slim and lengthen them. If you are concerned about cellulite, pareos and beach tunics can be a hit! Look for a scarf that you can tie fancifully around your hips, additionally slimming your butt and emphasizing your waist. Pear-shaped ladies should also pay attention to patterned or frilly tops that will add volume to the bust and even out the proportions.
3. A swimsuit and a figure with a boyish build - what cuts are best to choose?
Ladies with a boyish, very slim figure are primarily worried about the lack of a waistline, small breasts and narrow hips, which they consider not feminine enough. If you're petite, choose two- or one-piece swimsuits that have all kinds of embellishments in the upper and lower part. These can be simply patterns (combined with a smooth, uniform background around the abdomen and waist), bows, bindings, frills, three-dimensional decorations, ruffles. The point is to optically add volume to the breasts and hips, thus creating the wasp waist effect. When it comes to a swimsuit for a figure à la Twiggy, it is also worth choosing a push-up bra, i.e. a breast-enlarging bra with a special construction with a sponge in the cups.
4. Plus size body shaping swimsuit – which one to choose to look perfect?
When it comes to plus size body shaping swimwear , there is a lot to choose from. Brands are increasingly offering their customers cuts of costumes that slim down like professional corrective underwear, while guaranteeing full freedom of movement and breathing. But you can also choose one-piece or two-piece outfits that slim down with clever solutions: properly composed patterns, contrasting inserts or ruffles. Example? Swimsuit by Ava or Simple Cut by Feba. If you have a larger bust, be sure to reach for a bra with support in the form of wider straps and underwires, and if you struggle with a tire around the waist - high-waisted panties.
1 piece swimsuit Ava SKJ 44 green
In the case of a fluffy figure, as much attention should be paid to the cut of the swimsuit as to any other elements of the holiday look, especially such as pareos and beach tunics. Those with the right cut and worn in the right way can work wonders, optically subtracting kilograms and modeling the silhouette. The best will be smooth scarves tied asymmetrically on the hips or loose, openwork capes that flutter around the body, covering sensitive places (e.g. butt or thighs) and adding freedom and lightness.
One-piece swimsuit Feba Simple cut navy blue F31/837
5. What swimsuit for an hourglass figure? We dispel doubts
Hourglass. If you have such a figure and want to expose it on the beach, give up all frills, ornaments, asymmetric patterns. By focusing on classics and simple cuts, you will not lead to a situation where the perfect silhouette seems a bit disproportionate. A traditional bikini or a one-piece swimsuit by Naturana in a retro style will be a good solution for you. Your biggest advantage is a clear indentation at the waist, which you should boldly expose. You will need in this task, for example, contrasting trims of panties or, for example, effectively gathered material at the waist.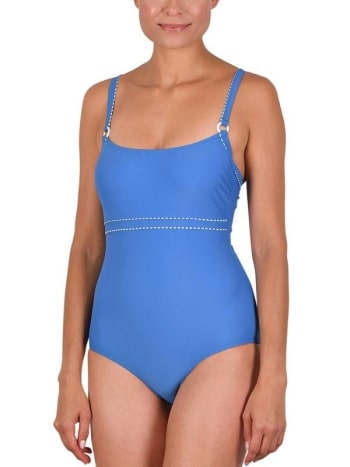 One-piece swimsuit Naturana blue 73220
6. A swimsuit and an inverted cone figure - what is worth knowing?
Ladies with shoulders much wider than hips also have a problem with choosing a swimsuit for their figure. If you also have such a figure and want to optically even out the proportions, go for a minimalist top and a more decorative bottom. Patterns, ruffles, bows, frills, fringes - every way is good to optically enlarge the butt and hips and distract attention from the dominant shoulders. Ava bathing briefs with spectacular bows or briefs with decorative strings on the sides are always a good idea. A trick of stylists? If you can't find a properly composed set, mix tops and bottoms from different costumes - it's important that the bra is simple, set on not too wide straps, and the bottom is as patterned and decorative as possible. A pareo will also save you, preferably in colorful prints and tied with a large knot at the height of the hips. Thanks to this, the shoulders will seem much narrower, but the butt will be rounded.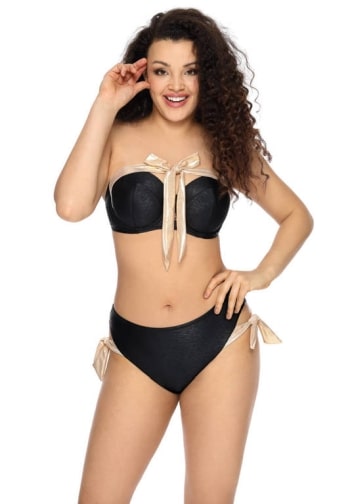 Ava black women's swim briefs SF148/10
Choosing a swimsuit doesn't have to cause you stress. If you are looking for the perfect costume for this year's holidays, take to heart stylists' tips that sound really logical - knowing how certain cuts, colors or patterns work on the figure, it will be easy for you to choose the right cut of panties or a bra for a slim figure or a shapewear swimsuit plus size figure. You now know the 6 most important tips, so you can go shopping!