How to choose a bra for the neckline?
2022-07-01
The ability to choose the right bra for the neckline is a real art. It is worth buying to look feminine and effective in every possible situation: at work, on a date, at a party or while shopping. If you do not know which bra models and cutouts will work best for you, check out our guide, in which we comprehensively approach this issue.
What is worth remembering when choosing a cleavage bra?
What determines whether we look good in a given style or not? It is not only a matter of "our" color or cut that compliments our figure, emphasizing its strengths. Underwear also affects how the styling looks. She should:
fit our body type;
be the right size;
remain invisible.
Regarding this last tip, a few things are important. First of all, underwear should not show through the material, or show color or texture underneath it. It is also worth considering the selection of its cut to various types of construction solutions used in the creation. Panties or a bra visible, for example, in cut-outs of cut-out blouses are completely out of the question if you want to be considered elegant. It is also important to choose a bra for the type of neckline. It should guarantee the breasts the right appearance and proper support, while remaining invisible. If you don't know what bra to choose for a square neckline or a V-shaped cut, check out our valuable advice.
V-neckline bra - what will be the best? we suggest!
Which bra for the "V" neckline, so beloved by fashionable ladies, will be appropriate? One that will remain invisible throughout the entire depth of the cutout. If you choose such a dress or blouse, give up balconette bras, the cups of which are connected high, creating an almost horizontal line. A better choice will be push-up bras that will add volume to the breasts and allow them to nicely fill the neckline, but be careful: not just any kind. Plunge bras with a low bridge and cups that are much higher on the outside and more heavily cut in the middle, forming a "V" shape, will be ideal. In the case of an envelope neckline or a deeper "cheese" it will be a dream type of underwear! You can find a push-up bra for a V-neck dress in our online store, for example in the collection of Corin or Nipplex brands.
It is also worth paying attention to sloggi bralette bras. The Zero Feel model with molded cups and a special cutout is 100% comfortable and guarantees that underwear will remain invisible in the deeper V-shaped neckline.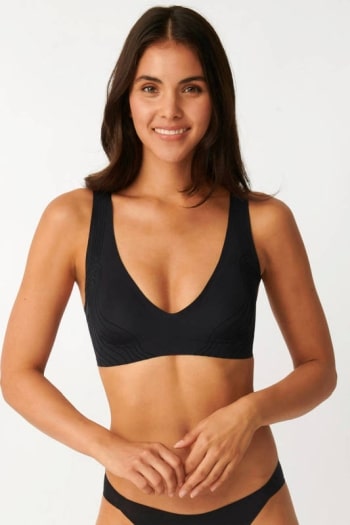 Sloggi zero feel n 2.0ex bralette black
Halter neckline bra - the perfect bra model
When it comes to bras for a halter neckline, which effectively exposes the shoulders, the best will be bras with straps crossed at the back. Unfortunately, simple ones will stick out from under the straps of a top or dress, spoiling the whole effect. You can choose not only breast enlargement underwear, but also sensual, lace bralettes with a special line of straps. Of course, a reliable self-supporting bra will also be a great idea, whose free cups, without a waist circumference and straps, are glued directly to the breast. If you have firm and small breasts, you can also follow in the footsteps of Kendall Jenner or Hailey Baldwin-Bieber, who often do not wear any underwear with halter dresses and shirts.
Bra for a deep neckline - choose this bra style!
A bra for a large neckline that ends even in the navel area? The best will be the one with a special design, with a strongly lowered bridge. Many models of this type of half corsets have push-up cups. A bra with a low-neck blouse can also be more classic (for example, in the case of a square neckline, a balconette will be perfect), but always make sure that it remains invisible under clothes. A brilliant solution is also bust modeling tapes from Julimex or other lingerie brands. They will support the breasts and give them the right shape without the need to cover the neckline with material.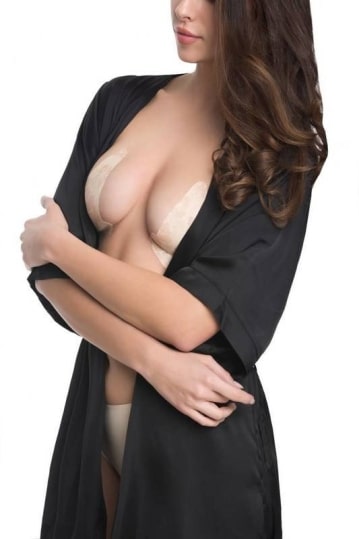 All up Julimex PS-03 self-adhesive plasters
Spanish neckline and bra - what to consider when choosing?
A carmen neckline, or Spanish, is a simple strapless neckline. And that's exactly the kind of bra you should choose for it. The most reasonable decision will be to choose a Spanish balconette with a blouse or dress, which has no straps, and yet lifts up and perfectly supports the breasts.
Bra up to the neckline on the back - this model is worth investing in!
Self-supporting bras will be irreplaceable in the case of very deep necklines on the back. If you want to look like Jennifer Lopez, but your breasts are too big to be satisfied with nipple stickers (a great solution for small breasts), reach for such a bra model - glued directly to the body, without straps and girth. Thanks to this, nothing will spoil the sensual effect that your creation provides. If the neckline on the back is not too big, you can also use a special strap that lowers the clasp of your favorite bra. The belt of the well-known and respected Julimex brand can be found in our offer!
Belt lowering the clasp Julimex 2 rows beige
Asymmetric neckline, envelope neckline, carmen neckline… There are a lot of types of cutouts in dresses or blouses, and each of them emphasizes the silhouette in a different way and works well in different situations. One thing remains unchanged: each of the necklines requires the selection of appropriate underwear that will properly shape and support the bust, and above all remain invisible. If you've read our guide, you already know what bra models to look for and how to match them to the type of neckline. Now it's time to find your size and favorite color of a bra for a dress with a cleavage in our online store, and then ... tasks of chic every day and on holidays.