Wish bra Simone Perele dark green 12B319

Delightful in every detail, the soft full cup plunge bra from the French brand Simone Perele is a real pearl in the world of lingerie. This bra was created for women who are looking not only for comfort, but also for a beautiful appearance and excellent breast support.
One of the key elements of this bra are the underwires, which very nicely surround the entire breast, providing adequate support and shape, and the vertical cuts further increase the ability to support the breasts.

In addition to perfect support, the bra very nicely gathers the breasts inwards, temptingly exposing the cleavage, also dedicated to deeper necklines.

The material from which it is made is delicate tulle combined with luxurious guipure, which decorates the entire structure, giving it an even more luxurious look.

The front of the bra is slightly transparent, which adds sensuality, while the back is smooth, which ensures comfort.

The choice of two shades of green is also extremely interesting. This contrast creates an extremely impressive look and gives the whole thing a unique character

This unusual color is perfect for darker outfits, where it can be a practical and aesthetic part of the outfit.

The straps are smooth, which beautifully combine with the tulle part of this extremely original bra, they are also adjustable, which allows you to adjust the bra to your individual needs.

This truly beautiful and super feminine bra can be combined with panties from the same line 12B630 or 12B720 and create a perfect set that will emphasize its uniqueness and provide unrivaled wearing comfort.

Composition: 64% polyester, 28% polyamide, 8% elastane
manufacturer's color code
1. Jak znaleźć idealny rozmiar biustonosza?
Aby określić swój rozmiar biustonosza należy zmierzyć obwód pod biustem, obwód biustu oraz dopasować fason odpowiedni do swoich potrzeb. Poniższa tabela pozwoli znaleźć Twój PRZYBLIŻONY rozmiar biustonosza. Aby dobrać IDEALNY rozmiar warto przejrzeć różne fasony oraz pomóc sobie ROZMIARAMI KRYŻOWYMI.
Pomiaru można dokonać samemu lub poprosić kogoś o pomoc.
Stań z prostymi plecami, oddychaj swobodnie - nie wstrzymuj oddechu, bo wtedy klatka piersiowa nadmiernie się poszerza. Użyj miary krawieckiej.
Pomiaru należy dokonać pod samym biustem, dość ciasno, gdyż miarka nie jest elastyczna, tak jak biustonosz, ale również trzeba zachować pewną swobodę. Po odczytaniu wyniku zaokrąglij go w górę lub w dół, np. 72cm do 70 cm, 84cm do 80cm lub 85.
Pomiaru należy dokonać w najszerszym miejscu biustu, dość luźno aby nie ściskać piersi.

Spójrz w tabelę rozmiarów i odszukaj swój rozmiar!

Idealny biustonosz otacza piersi, nie przecina ich ani nie odstaje. Jest komfortowy, leży doskonale.
2. ROZMIARY KRZYŻOWE
Gdy czujesz, że biustonosz nie jest dopasowany idealnie spróbuj jego ROZMIARU KRZYŻOWEGO.
Jeśli biustonosz jest ZA MAŁY pod biustem, spróbuj przymierzyć trochę większy. Zatem zamiast, np. 75C spróbuj 80B. Będzie on luźniejszy pod biustem, ale głębokość miseczki będzie taka sama jak w 75C.
Jeśli biustonosz jest ZA DUŻY pod biustem, spróbuj przymierzyć trochę mniejszy. Zatem zamiast, np. 75C spróbuj 70D. Będzie on ciaśniejszy pod biustem, ale głębokoość miseczki będzie taka jak w 75C.
W razie konieczności skorzystaj z poniższej tabeli rozmiarów krzyżowych.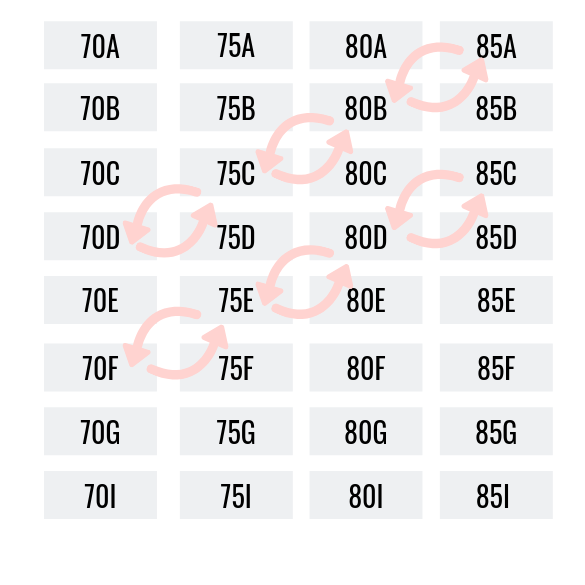 3. JAK DOPASOWAĆ ROZMIAR MAJTEK?
Aby dopasować rozmiar majtek należy pobrać dwa wymiary.
Zmierz:
- najwęższe miejsce talii
- najszersze miejsce bioder

Spójrz do tabeli rozmiarów i ciesz się wspaniałym kompletem bielizny!